LIDS 2012
The London Dive Show
ExCel
31 March - 1 April
If you love the Reef Jewelry Octopus Diamond Ring you will love the exciting new platinum ring creations we are launching at the show. If you are a fan of the stunning octopus necklace you will be pleased to hear that our octopus range is now available in silver. We will have Necklaces, Earrings, Charms, Rings, Cufflinks and much more on display at LIDS 2012 on Stand 611.
See the beautifully crafted duo collection combining 18ct gold and silver that exudes luxury. Whether it is silver, gold, platinum or diamonds, there is something to fit everyone's budget.
Would you like a ring designed for you? Visit Stand 611 to discuss your commission requirements.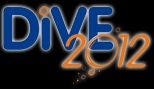 DIVE 2012
NEC, Birmingham
27/28 October 2012